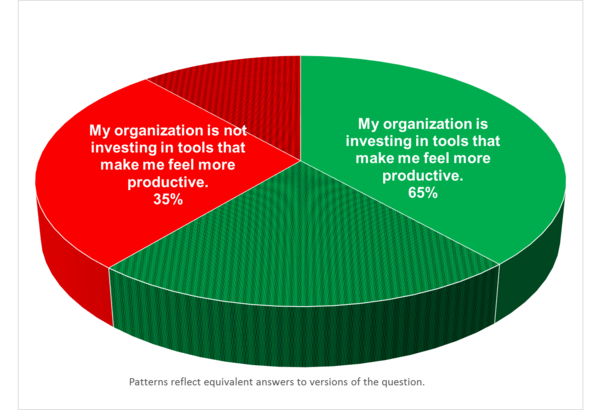 This is a bit of a conundrum. On the one hand, essentially two-thirds of the respondents felt that their companies were making investments. But a whopping one-third did not agree. Clearly, these survey respondents are not happy campers, and they realize that their company could do more to make them feel (and actually be) more productive.
We see this as a clear call for companies to invest - NOW - in better communications technology to address today's complex and multi-faceted communications environment to support integrated communications including telephony, email, texting, on-line collaboration.
Comments from the survey:
"I would like my organisation to embrace more adhoc and video conferencing solutions."
"The mode of communication needs to be matched to the task. E.g. Chat is good for quick answers, but not good for complex conversations."
| | | |
| --- | --- | --- |
| Question | Overall percent | Question percent |
| My organization is investing in tools that make me feel more productive. (Agree) | 38% | 77% |
| My organization is investing in tools that make me feel more productive. (Disagree) | 12% | 23% |
| My organization is not investing in tools that make me feel more productive. (Agree) | 23% | 45% |
| My organization is not investing in tools that make me feel more productive. (Disagree) | 27% | 55% |
---
For demographic information, please click here. To access the companion

Workplace Productivity and Communications Technology Report, click here.




This perspective is authored by Steven Taylor, Publisher and Editor-in-Chief at Webtorials, and is brought to you in part due to the generous support of: