From knowledge workers to field personnel, users have grown dependent on smartphones. A recent
Intersperience survey
found that half of UK adults would rather live without make-up, alcohol, cigarettes and coffee than lose their phones, which they said would leave them agitated, lost, panic-stricken or in tears.
This virtual addiction puts a heavy burden on help desks to keep mobile workers productive and more or less anxiety-free. Recently, we
explored tools to help IT diagnose network troubles
. However, what if the culprit isn't spotty cellular connectivity, but rather buggy hardware, cranky apps or fat-fingered logins?
Knowledge is King
First, help desks need device visibility into the following:
Physical attributes (make, model, serial number, IMEI, UDID)
Software attributes (firmware build, OS version, app, processes)
Device status (location, battery, connection state, logged events)
A handful of attributes can be obtained via Exchange ActiveSync (EAS), but digging deep enough for troubleshooting might require a mobile device management (MDM) system.
In its recently released MDM 2012 Magic Quadrant report, Gartner identified over 100 vendors offering MDM-like functionality. The 20 products detailed in the report all deliver hardware management (asset/inventory management, provisioning, support), software management (configuration, update, patching, software monitoring) and other capabilities useful for troubleshooting.
Help desks can use MDM to push updated configuration profiles to (re)provision Wi-Fi, VPN and email settings and credentials. In this way, basic mistakes and mismatches can be ruled out remotely, without depending on users to spot or fix errors. Although specifics vary by MDM and OS, such capabilities are readily available for BlackBerry, Windows Mobile 6.x, and iOS 4+ smartphones. Standard Android hooks are comparatively limited, but are often extended by APIs supplied by Android handset makers.
Going the Extra Mile
Connectivity and configuration errors are common but aren't the only culprits. Especially when users install a potpourri of apps from unknown sources, poorly written software can cause battery drain, resource competition, process failure, device reset and more.
For years, help desks that managed fleets of Windows CE industrial devices had total control over them, including letting IT experience a device as though it were local by remotely viewing the display and interacting with its keypad and touchscreen. In verticals such as healthcare, retail, logistics and others, help desks may be looking to provide this same "hands on" support for iOS and Android.
For example, beverage distributor Andrews Distributing Company has asked its mobile application supplier, Rutherford and Associates, to build a new iOS remote viewer feature from its MDM supplier, SOTI, into its eoMobile ordering and inventory application. Rutherford has agreed, says Scott Jenkins, information systems administrator in Andrews' Fort Worth, Texas, office, who expects the iOS app to be ready in September or October.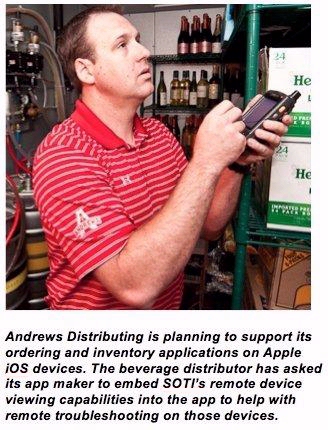 The company runs a mix of Windows-based Motorola enterprise handhelds, Motorola and Intermec custom devices for warehouse and voice picking solutions and BlackBerries. But about 200 Apple iOS devices have crept in and Jenkins expects another 1,000 by year's end.
"For an enterprise, it's detriment that Apple doesn't let us view [a user's screen] the way Windows Mobile does," says Jenkins. He says that about 75% of the "device" issues usually relate to new-user confusion and "it's easier to walk them through the problem when you can see it."
SOTI enables IT technicians to take remote control of devices running Android, a number of Windows OS flavors and the BlackBerry OS to conduct diagnostics. While, as Jenkins noted, Apple does not permit remote control of iOS devices, Andrews techs will be able to remotely "see" some screens displayed on a user's iOS device by using SOTI's new MobiControl iOS SDK to embed remote viewer support into their enterprise apps.
Helping Users Help Themselves
In the era of BYOD, some help desks are happy to shed the workload associated with device and app troubleshooting. In short, users who want full support must choose an IT-blessed phone equipped with the necessary instrumentation; the rest can buy whatever phone they want but are largely on their own.
To that end, a growing number of MDM vendors, including AirWatch and Fiberlink, offer self-help portals that give authorized smartphone users Internet-based remote access to diagnostic information and basic tools such as password reset and event logs. Both companies offer extensive learning resources to train and support administrators on their MDM products.
Ultimately, it can't hurt to have a well-stocked troubleshooting toolbox. When mobile workers can't get their jobs done, downtime translates directly to frustration and cost. Self-help tools can empower users, but deeper visibility and control might be needed to tackle more stubborn problems.
---
This
TechNote
is brought to you in part due to the generous support of: