There's naturally a growing interest in getting
better cellular connections
in and around your office buildings. The more unwired the enterprise becomes, the more mission-critical the radio-access network (RAN) grows. The bring-your-own-device (BYOD) craze is certainly fueling the need for greater and more reliable RAN coverage and capacity.
But sometimes licensed cellular voice and data signals don't penetrate office buildings very well or even at all. So you'll need to amplify signals from nearby cell towers or bring in your own licensed signal source, which is essentially a cell tower in a miniature form factor. BYOD is at once driving such projects while also throwing a curve ball at them.
The conundrum is that with BYOD, employees connecting to the corporate network might be subscribed to any of a number of carrier voice and data services. This could mean you'll have to boost the signals of two or more carriers, which can get complex, expensive and more than a little political.
Getting Carriers to Cooperate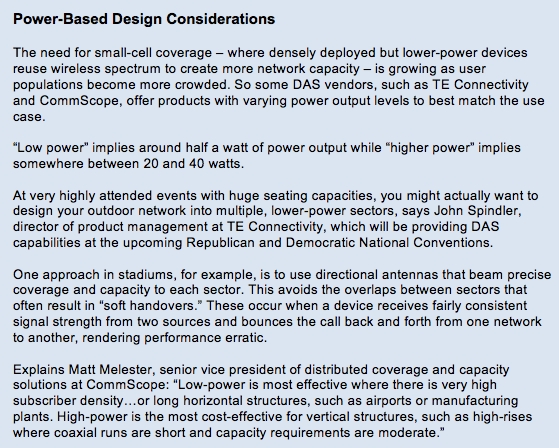 Competing cellular carriers often get frosty when asked to cooperate with each other when using traditional distributed antenna system (DAS) to distribute licensed signals throughout your facility. You'll need separate signal-boosting infrastructures for each service or have to get the carriers to agree to be part of a "neutral host" setup that supports and distributes signals in multiple frequency bands across a common infrastructure.
Piping the various signal streams through one system makes cost and management sense for the enterprise. However, mobile operators are often reluctant to share a platform with their competitors.
DASs, for example, have generally been targeted at larger enterprises and public venues that can afford them or that generate enough cellular traffic to motivate mobile operators to foot the bill. In addition to being able to charge for piles of usage, mobile operators want good PR for how well their networks perform at high-profile events like those at sporting arenas.
But carriers basically "own" the spectrum they license and dictate how it's used. And they are picky about who does what with it. If they don't feel it's in their financial interest to help your location have a good cellular experience, they don't have to supply signal sources at all. They can make this decision whether or not your organization is willing to pay for the infrastructure.
If the carrier(s) you need to support refuses to participate in a shared-DAS system, you will have to deploy discrete amplifiers. In this case, each in-building wireless element is dedicated to a single provider, allowing that provider to have dedicated in-building capacity and to feel completely in control of the monitoring, management and performance of its own network.
If this is too expensive, it's best to settle on the most commonly used major carrier in your environment and let BYOD users of other services find other means of communicating, such as Wi-Fi.
The Wi-Fi Option
In fact, why fuss with all the supplementary cellular infrastructure at all? Since most mobile devices support cellular voice, 3G (or 4G) data and Wi-Fi connectivity, why not just have on-premises users hop on the "free," unlicensed Wi-Fi network you're likely already running? On the data side, that indeed seems to be the trend. And if your in-building voice strategy is to use voice over Wi-Fi, and you have built your Wi-Fi network out densely enough to support it, you might get away without having to boost cellular signals indoors at all.
But large scale voice-over-Wi-Fi hasn't gone mainstream. And if employees (particularly salespeople) consider their cellular number their primary number and want to use their cell connections for most of their calling, you will need some in-building infrastructure equipment if your location isn't getting very good reception.
So how do you get mobile operators to cooperate? If you are a humongous, well-known entity, like a big Vegas casino or popular sports stadium, just ask. The operators will be financially incented to put in the required infrastructure at their own expense.
If you have to fund the project, request help from an integrator or DAS equipment manufacturer in getting carriers on board to provide base station gear. Companies in the in-building equipment market have the contacts and relationships needed to penetrate the labyrinthine process required to get the licensed equipment you need approved and delivered.
---
This
TechNote
is brought to you in part due to the generous support of: