A Webtorials Thought Leadership Discussion

Explore the latest Wi-Fi spectrum management issues in this discussion with top industry thought leaders from AirMagnet and Cisco Systems.
Joanie Wexler, Lead Analyst and Moderator
Join Discussion
or
Download Current Digest
(Webtorials
registration
required. Click
here if you forgot your username/password
.)
Welcome to this Thought Leadership Discussion about managing the unlicensed RF spectrum in wireless LANs (WLANs).
Wi-Fi networks operate in unlicensed wireless frequencies in the 2.4GHz and 5GHz bands. Because these bands are unlicensed, everyone has equal rights to use them. As more Wi-Fi networks get deployed, the more crowded these "free" frequencies get. So it's important to protect communications growing increasingly prone to interference that can cause connectivity and performance problems.
This discussion addresses approaches to successfully managing spectrum and discovering and acting on sources of interference so that businesses can optimize performance and lower the risk of their Wi-Fi connections. Please feel free to participate by posting your own questions and comments, which our participating thought leaders will answer in a timely fashion.
Featured participants in this discussion are:

Joanie Wexler, Wireless Industry Analyst and Moderator

Dilip Advani, AirMagnet/Fluke Networks
Some of the questions discussed include:
Join Discussion
or
Download Current Digest
(Webtorials
registration
required. Click
here if you forgot your username/password
.)
This Thought Leadership Discussion is made possible in part due to the generous support of: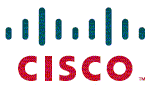 Please note that by downloading this paper and/or the conversations, your registration details will be shared with the sponsors - AirMagnet and Cisco. Any personal information collected is subject to the respective privacy policies of each company. By clicking on "Download" or "Join," you agree to the uses of your personal data by Cisco in accordance with the Cisco Privacy Statement.