Though the post office's new ad opens, "
A refrigerator has never been hacked
," it's only a matter of time until smart appliances in the home connect to the Internet and, in turn, open up new opportunities for cyber criminals. In the meantime, though, some critically important Web appliances in business settings are already exploitable in ways folks might not have thought of yet. For example, uninvited guests can hack into your videoconferencing systems and see or hear private information in a number of ways. They may already be doing it.
A
recent Boston Globe article
recounted the exploits of one HD Moore, chief security officer at Rapid7, a Boston firm that fixes security flaws within IT infrastructures. (Other companies in this game are McAfee's NitroSecurity and IBM's Q1 Labs.)
Moore exploited the H.323 videoconferencing protocol to secretly tour conference rooms in law offices, venture-capital firms, oil refineries, pharmaceutical companies, hospitals and courtrooms. The latest systems from Cisco/Tandberg, Sony, LifeSize/Logitech, Polycom, Codian and others - even with encryption - were no match. And the systems Moore entered would have offered little sign of his presence, except for a tiny console light or camera movement.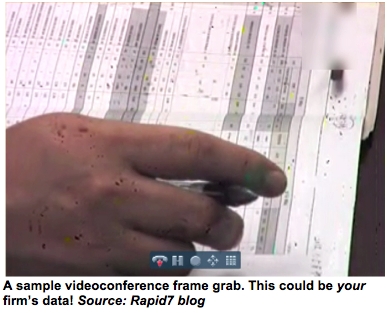 Thus, Moore warns, real cyber spies could easily gain eyeballs on your firm's sensitive information in the following ways:
Zooming into areas outside conferencing rooms.
Reading passwords from sticky notes more than 20 feet away.
Listening to distant conversations.
Reading email on laptop screens.
Watching keyboards to capture passwords.
A Simple Hack
Moore used Rapid7's well-known
Metasploit
penetration-testing program to scan the Web for conferencing systems that:
Sat on the Internet side of firewalls (or had been deployed in firms without firewalls).
Automatically answered incoming IP calls.
In under two hours, after scanning 3% of the Internet, the program found 5,000 targets out of 250,000 H.323 systems examined. Moore checked a few, and crashed into an attorney-inmate confab, a medical operating room and a venture-capital meeting with financials projected on-screen.
Worse, once he cracked one system, he often could jump from its address books into business partners' conferencing rooms - even those "protected" behind security barriers. In this way, he could have invaded a highly secure Goldman Sachs boardroom, which was listed in an outside law firm's video address book.
Fend Off Coming Attacks
Moore has sounded a critical alarm. But his firm has also blogged about
how the hack was done
. So the race is now on to lock down your systems, pronto. Here's how:
Assume that your videoconferencing systems have shipped in an unsecure state with auto-answer enabled. Disable it.
If you haven't already, change systems' factory-default admin IDs and passwords.
Move systems behind firewalls. And work with their manufacturers to add "gatekeeper" systems outside the firewalls to screen incoming calls.
Have suppliers help you tighten their products' security and make your security auditors test it.
Make sure systems' Web interfaces can't initiate outbound calls to outside parties.
Require passwords of all conference participants.
When practical, lock camera controls during and between meetings.
During conferences, ensure that cameras can't see information on flip pads, whiteboards and computer screens that you aren't using.
Between conferences, turn systems off (or turn mikes off and cover camera lenses).
At all times, keep conference room doors closed.
Before scrapping or selling conferencing equipment, thoroughly wipe its data (including address books).
Similarly, when we do start bringing smart fridges and other appliances into our homes and offices, we can also protect them (and our PCs) by changing the factory-default IDs and passwords in our own Internet routers. Many people don't, and hackers
know
those codes!
NOTE: For security reasons, I don't give out my email address. However, if you would like to send email to my trusted alter-ego, Dave Powell, he will deliver the messages to me in a plain brown envelope.