Communication and collaboration between enterprises and their customers and among internal employees are integral to today's business processes. A key function of unified communications (UC), known as "presence," can vastly improve these business processes, increasing revenue, improving customer satisfaction, shortening decision times and reducing employee costs.
Presence is the ability to learn, in real time, the availability of an intended communication contact, whether that contact is an employee; a function such as the help desk; or a group, department, title, rank or other designation.
One common example of using presence is the instant messaging (IM) "buddy list," which enables one user to determine another's "chat availability" status. But beyond IM, other real-time functions, such as voice and video, are increasingly taking advantage of presence to instantly inform an employee of the status of others, too.
Integration On or Off the Network
In its most comprehensive form, presence can integrate all the devices and services used by the intended contact, whether those devices and services are on or off the enterprise network, and whether they are on fixed or mobile networks. This is especially helpful if the two communicating parties are in different locations. Knowing the presence status of the party to be contacted can make the caller more efficient by letting him select the best available medium or choose to contact the person later rather than wasting time on what will be a failed call/session. Protocol dictates that presence be a two-way street; i.e., callers should always make their own status visible to the party being called.
Using presence functions, an employee can quickly locate the desired contact by accessing an interactive directory created by the enterprise as part of the UC implementation. Presence informs the caller of all media available for the session before it begins. The connection can start with a text message, for example, and then migrate to a voice call or even a video call.
Boost Customer Responsiveness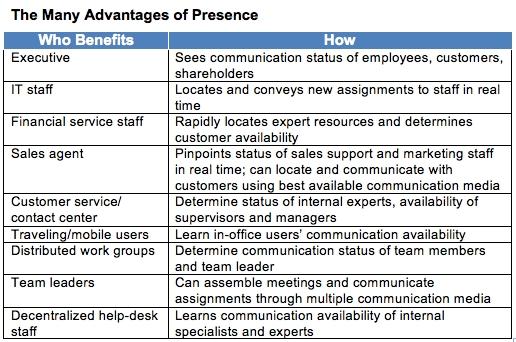 When contact-center agents and help-desk staff aren't immediately able to provide a customer or employee with needed information, they can use presence to locate the appropriate specialist or expert. In fact, presence need not seek out a specific person; it can simply describe the expertise needed or provide a title or function name, allowing the first available person who fits that description to respond to the caller. This can shorten or eliminate the caller's hold time or the need for a callback. These scenarios lead to clear personal productivity gains.
Business processes can be greatly improved through presence. For example, applications can be written to create automatic IM replies when the called party is unavailable. Or presence can be integrated into an application to enable it to automatically locate the best available resource without human intervention. In such ways, presence becomes a core component of the business workflow.
Beyond IM to Voice and Video
To date, IM has been the most widely used application of presence technology. As noted, IM users can determine, in real time, those available for a conversation and their preferred or available communication media, and receive immediate acknowledgements and replies. The more recent use of presence technology with voice and video communication - capabilities increasingly present in IM services - significantly broadens the workflow and collaboration functionality available to employees.
Presence can be used to dramatically streamline real-time communication, leading to less wasted time, fewer distractions, more efficient employees, and better customer and employee relations. These productivity enhancements resulting from the effective use of presence ultimately can lead to improved cost controls and a lower total cost of ownership (TCO) for the enterprise.
Related Reading at Webtorials: