We constantly hear how communication and collaboration, or unified communications (UC), will make us more productive, reduce travel costs and create better relationships. That's the upside. But there are also downsides: interruptions and distractions that reduce worker focus, waste time, lead to errors and cost money in lost productivity.
With all of today's communication distractions, getting the job done seems harder than ever. It was bad enough when people simply walked into a busy co-worker's office or cubicle or called on the phone. Now, with the digital world intruding in so many forms - email, texting, IM, web searches, social networking, tweets - digital distractions are far more common than the in-person variety. Furthermore, many people mix social networking with business communication, often using them simultaneously and with no clear boundaries between them. Enterprises have even begun creating their own internal social networks, which could add to the problem.
Striking a Balance
How can employers take advantage of the productivity gains possible with new UC technologies without seeing those gains swept away by the accompanying distractions? Solutions include using technologies such as presence, encouraging behavioral changes for employees (both the "contacting" and the "contacted" parties) and mandating a common device for all digital communications.
So what exactly is a digital distraction? It's the psychological reaction produced by some external stimulus - a communication function and/or device or other activity - that interrupts the focus and concentration of an individual on his primary task.
The distraction often lasts longer than the actual event that triggers it because, once the interruption ends, it takes additional time for the individual to refocus on the primary task. Refocusing might require a brief relearning period and could also result in errors and work having to be redone.
No Visual Clues
A survey, "I Can't Get My Work Done! How Collaboration & Social Tools Drain Productivity," published by harmon.ie, (pronounced "harmony;" see
http://harmon.ie/Downloads/DistractionSurveyResults
) reveals a key reason that digital distractions have overtaken in-person distractions as a workplace problem: in-person distractions require one individual to physically seek out another, at which point the first individual might observe that the second is absorbed in work and shouldn't be disturbed. Digital distractions offer no such visual clues.
As the table below shows, traditional phone calls, conversations with co-workers and ad hoc meetings (43 percent) continue to distract. But the clear majority (57 percent) of today's distractions are digital.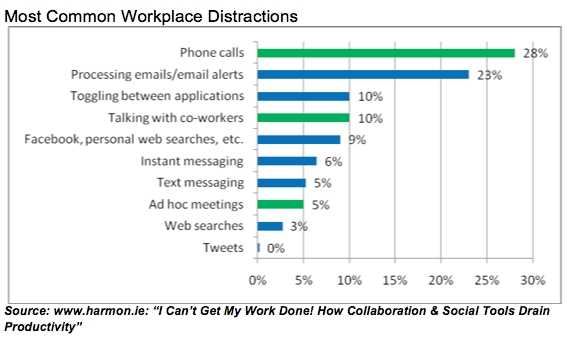 The goal after a distraction, of course, is returning to productive work. The more time between distractions, the more productive the worker can be; it's better to have one 20-minute distraction than five four-minute ones. The harmon.ie survey determined that 45 percent of employees could not work more than 15 minutes without experiencing a distraction, 32 percent could work up to 30 minutes between distractions, and only 23 percent could work more than an hour between distractions.
The survey also found that fully a third of the respondents had difficulty working and producing output due to distractions. A fourth felt unable to think deeply and creatively. Twenty-one percent had to contend with information overload. Ten percent missed deadlines, 5 percent had unhappy customers, and another 5 percent said the distractions led to anger, poor evaluations or even job loss.
Minimizing the Impact
But the negative impact of digital distractions can be reduced by certain behavioral changes on the part of workers:
Read e-mails in groups (e.g., every 30-60 minutes or to take a break from the task at hand), rather than automatically looking at every e-mail as it arrives on your device.
Reply to e-mails as you proceed through the group e-mail reading.
Unsubscribe to e-mails that are no longer useful.
Turn off your phone ringer and device alerts when you need to concentrate. But don't forget to turn them back on later! (It has been suggested that devices have a timer to automatically turn the ringer/alerts back on after a designated interval.)
Turn off automated alerts from Facebook and other social networks.
Schedule time outside the office for work when you need to concentrate and avoid distractions.
Take time and thought in selecting your presence status preferences. Check and revise the preferences every day, as conditions change.
Don't forget that you are the cause of some interruptions and distractions. Communicate when necessary, not impulsively.
If you must cause an interruption, try to "batch" multiple pieces of information into your communication rather than sending repeated short communications.