Call it a chicken-and-egg situation, a Catch-22, a vicious circle or any of your other favorite clichés. I'm talking about Android's prospects for success in the enterprise.
Here's the conundrum: If the trend to bring-your-own-device (BYOD) truly represents The Next Big Wave to take enterprise IT by storm, then it's a given that mobile devices running the Android operating system will soon be clamoring for corporate network connections in a big way. And yet businesses have shunned it as an enterprise-ready mobile platform because of security and complexity reasons. So how do these incongruous trends get reconciled?

Popular with Consumers; Anathema to IT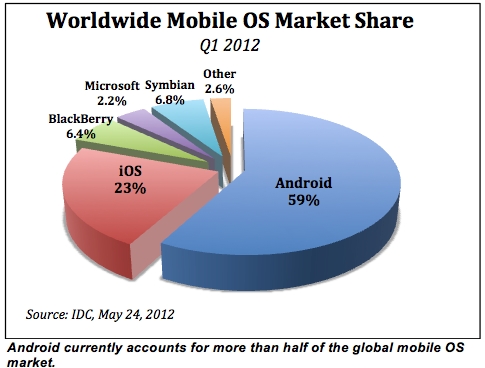 To say that Android-based devices are popular with consumers is an understatement. IDC estimates that Android claimed 59% of the mobile OS market worldwide during the first quarter of this year, for example (see figure), and comScore MobiLens calculates that the OS garnered about 51% share in the U.S. during the same time period.
But Android has been struggling in the enterprise. And by "struggling" I mean that most enterprises haven't sanctioned Android smartphones and tablets as corporate-owned and managed devices, the way they welcomed BlackBerry in the past and, increasingly, are embracing Apple iOS devices. Why?
Bad security rep. Android is known as a favorite target of mobile hackers; it's "openness" gives users more freedom but also breeds familiarity with the OS's vulnerabilities. Also, the Android app vetting process is not as stringent as others', so harmful applications are more likely to make their way onto Android devices than others.
Fragmentation. There are so many versions of Android implemented in different ways, it's complex for enterprises to manage the OS. Mobile device makers tend to release new handset and tablet form factors for multiple concurrent versions of the Android OS. Aside from being confusing for users, this situation creates a management nightmare and issues for software developers trying to support the various versions. In a corporate-liable world, enterprises could standardize on one or two manufacturers and Android versions. But in a BYOD world, the choice of handset model and Android version rests with the user.
Scarcity of application programming interfaces (APIs) and enterprise policies. The APIs and policies supported haven't held a candle to what enterprises came to expect with BlackBerry and, increasingly, are getting from the iOS platform.

Enterprise-Readiness: What's Being Done
In anticipation of Android's inevitable but potentially unwelcome arrival in the enterprise, there are a few developments afoot. To some degree, the device manufacturers themselves are taking it upon themselves to get Android into enterprise-ready shape.
For example, Samsung, whose Galaxy S III debuted in the U.S. this week with AT&T, Sprint, T-Mobile USA, Verizon Wireless and U.S. Cellular, has created more than 700 APIs and 300 enterprise policies for its Galaxy platform. These can be implemented in mobile device management (MDM) solutions from Samsung partners such as MobileIron and Sybase/Afaria/SAP and compare with just 30 to 35 default Android APIs offered natively by Android's creator, Google.
For its part, Google recently completed its acquisition of mobile device maker Motorola Mobility, which could result in extra enterprise goodies in those devices. In addition, Motorola Mobility had acquired 3LM, a maker of MDM and mobile applications management and security, in early 2011 and has licensed the enterprise technology to other device makers such as HTC, Pantech, Sharp and Sony Ericsson. So there's hope for those hardware platforms, as well.
And on the security front, in February of this year, Google made known the existence of "Bouncer," a service that automatically scans apps introduced to its Google Play app store (formerly the Android Market) in search of malicious software. Hiroshi Lockheimer, VP of engineering for Android at Google, wrote
in a blog at that time
that thanks to the malware detection/prevention capabilities, "between the first and second halves of 2011, we saw a 40% decrease in the number of potentially-malicious downloads from Android Market."
On the other hand,
reports surfaced just this week
that Bouncer is far from foolproof and that it is undergoing some work with security experts to plug the gaps.
Wi-Fi vendors are deploying network access control (NAC) for mobile devices, which will filter access requests from devices. Many of them, too, are teaming with MDM vendors to unite their respective capabilities. And the MDM vendors themselves are poised to launch mobile app security capabilities intended to work across any flavor of Android OS and any Android device to ease the fragmentation issue. Announcements will come as early as this week.
---
This
TechNote
is brought to you in part due to the generous support of: