Part Three of Three
Béatrice PIQUER DURAND
(Sponsor-Contributed Paper)

Here we discuss the breaking point of WAN Optimization on application performance, end-user experience and IT budget
You're under pressure to control IT spending but are tasked with rolling out new high-bandwidth apps that grow and change your network traffic matrix. The apps must perform as expected for end-user acceptance and all anticipated business benefits.
At the same time, a new rollout cannot affect the performance of pre-existing business apps. In part one and part two of this series, we began listing the top ten capabilities of new approaches to WAN traffic management that you're missing with classical WAN Optimization. To complete the list, you want to move beyond WAN Optimization in order to:
Reduce latency, bandwidth consumption and data transfer times
Classical WAN Optimization provides features to mitigate latency, but delivers few benefits for the volume and complexity of today's dynamic traffic loads. Technology exists to integrate WAN Optimization with QoS & Control to prevent accelerated apps from clogging your network and impacting other business-critical apps.
Unify and exploit your MPLS and Internet bandwidth
40% of companies responding to the Ipanema/Easynet 2013 Killer Apps survey reported their data networking growing at more than 20% annually. Hybrid networking with less expensive Internet bandwidth reduces upgrade cost but with reliability tradeoffs.
Ipanema is a company that provides the best of MPLS and Internet worlds - cost-effectiveness and reliability -by integrating your Internet VPN and local Internet breakouts with your MPLS backbone. Typically, you can reduce your total MBPS cost by a factor of three. Classical WAN Optimization simply cannot do this. With classical WAN Optimization, MPLS and internet VPN must be managed as separate networks and local Internet breakouts cannot be included in optimizing all global network performance.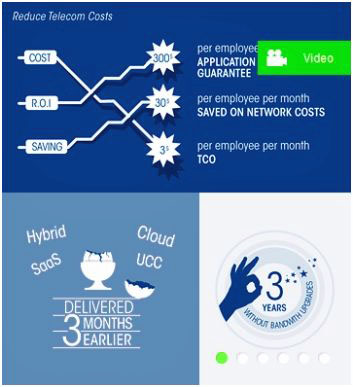 Energize end-users with the best quality of experience
A NetworkWorld App Performance Impact study revealed that more than two-thirds of companies recognize how poor application performance results in decreased productivity and customer satisfaction. Classical WAN Optimization can fix isolated problems for a site or application, but cannot guarantee app performance over your entire global network. Using a combination of global visibility and automated, dynamic control of traffic, you can guarantee app performance network-wide - to the delight of end-users, customers, LOB managers and CxOs.
Increase ROI from traffic management solutions at low TCO
For less than $5 per user per month, Ipanema can save more than $200 per user per month and protects applications worth more than $300 per user per month by reducing bandwidth requirements, service desk calls and network management tasks.
For a lot less money than classical WAN Optimization, you can guarantee the performance of new applications in your changing IT environment, protect the performance of pre-existing applications, and keep your network more affordably adaptable to continually changing business demands.