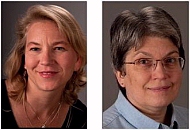 Many Enterprise customers understand the dangers of the carriers' online terms and changes to them, but few have time to keep up with it all. A recent move by AT&T demonstrates the importance of keeping abreast of the changes.
In early December, AT&T added a "Withdrawal of Service Matrix" to the General Provisions of its Business Service Guide (see excerpt from page 22 below). The table identifies services that AT&T will cease to offer sometime in the (likely near) future, even to current customers of the service.
AT&T tries to soften the blow, but its efforts are ham-handed. First, it characterizes the new services as "more technologically advanced," but doesn't say whether AT&T or the customer or both will benefit from these enhancements. Second, it identifies "eligible replacement services" the customer may want to consider. Not surprisingly, AT&T mentions only AT&T replacement services, and doesn't provide any assurances that they will perform as well or better than the old service, will cost no more than the old service, and/or will not require the customer to make expenditures to replace equipment that works well with the old services.
In truth, for a decade AT&T has allowed itself to discontinue offering services on 12 months written notice and service components typically on 120 days written notice, but was silent about which ones - you had to wait for the notice to arrive. In that sense, the table helps customers by letting them know a bit more about what's to come.
The table currently includes only one category: Local Exchange Services. Customers negotiating with AT&T over the last few months heard AT&T rumbling about its plans to stop offering certain services and may be surprised at the brevity of the "Affected Services.". But AT&T then proceeds to list all services associated with its standard voice services - AT&T Business Network Services, AT&T OneNet Services, and Prime Services - and of these only Prime is local.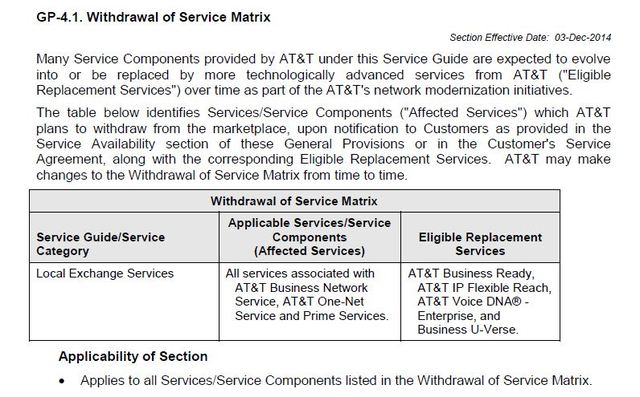 What does this mean? If you use any of the specified AT&T Services, you might get a notice any time that your service is being withdrawn. Then you'll have one year (or some other period if specified in your agreement with AT&T) to figure out what to do about it and to implement your new solution. Note that AT&T's VTNS service is not included in the table, but it is likely to be added soon - AT&T has already announced that it will be sunsetting at the end of 2018.
And finally, what should you do? If you use any of the listed services, you need to start planning to replace them if you aren't already. AT&T helpfully lists their services that could replace the withdrawn services, but that doesn't mean they're your only choices. You could turn to other suppliers - and should at least consider that option. After all, if you have to rip out old AT&T services, it's no more work to replace them with an alternative service from one of AT&T's competitors than to replace them with the services AT&T wants you to use.
Best advice - get moving! That year will be gone before you know it.