Apple recently sold 4 million iPhone 4S devices during the product's first three days on the market. That's good news for Apple and its investors, but wireless LAN administrators should beware: Apple's updated ecosystem is going to put the squeeze on your Wi-Fi network's performance.
With the iPhone 4S shipment, Apple's iCloud hosting and synchronization service has become available. In addition, the over-the-air backup and syncing capability runs on other mobile Apple devices that have been upgraded to the new iOS 5 mobile operating system, as well as on Macintosh computers with Mac OS X Lion and on PCs running Windows Vista or Windows 7.
The iCloud service automatically keeps all the files on users' devices up to date with one another wirelessly. It acts as a personal master controller, orchestrating over-the-air syncs of a given user's personal music, photos, videos and data files whenever it connects to a Wi-Fi network and discovers a discrepancy among any of the associated devices.
The company describes iCloud on its Web site as "automatic and effortless." And from the end-user perspective - the standpoint that Apple unfailingly takes - the invisible capability is a welcome bit of behind-the-scenes magic. It doesn't even cost users anything for up to 5GB of storage, so users are likely to sign up for iCloud.
However, the operational costs and potential WLAN equipment investments needed to handle users' personal wireless traffic won't be an enterprise freebie. Over-the-air activity that users might not even be aware of makes it tough to plan for capacity and manage traffic loads, a threat to network performance.
Using mobile device management (MDM) solutions or WLAN vendors' group policy setting capabilities, then, is probably in order to keep Wi-Fi traffic flowing smoothly. These mobility management capabilities have some limits, but overall can ease the impact of the mounting traffic loads on users' wireless experiences.

Traffic and Cost Could Add up Fast
iPhones and iPads, along with mobile devices built on Google's Android mobile OS and others, have taken the enterprise by storm. They've shown up both as corporate-liable devices and also as part of the bring-your-own-device (BYOD) mobile enterprise revolution. Many users have collapsed their personal and work files onto a single device for the convenience of not having to tote multiple devices around. Nice for users. Nightmarish for IT.
For users who sign up for iCloud, every time their Apple iOS 5 device associates with a Wi-Fi network and finds data that the cloud doesn't have, it automatically synchronizes with the iCloud server farm by default. iCloud transmits big stuff, like music, digital photos and videos, over the WLAN. When this happens multiple times a day by multiple users, some in possession of multiple devices, the result could add up to volumes upon volumes of traffic fast.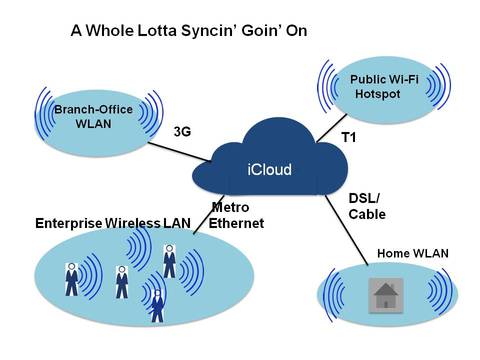 Marcus Burton, director of product development at CWNP, Inc., a Wi-Fi training and certification company in Atlanta, says that a network with many users who back up even 200MB - which seems like very little to users with disks holding hundreds of gigabytes - "will generate a ton of traffic."
The result could be a significant network upgrade investment to accommodate traffic "that's very hard to predict," concurs Chris Hazelton, research director of mobile and wireless at 451 Research in Boston.
Already Considering a Wi-Fi Upgrade
Indeed, Chris Nowak, chief technology officer at Anthony Marano Company, a fruits and vegetables wholesaler in Chicago, is already testing an upgrade to his voice-centric 802.11g network to newer and faster 802.11n technology, primarily because of the iCloud phenomenon. Even though just 10 of Anthony Marano's 50 users currently have iPhones, "everyone wants one," Nowak explains.
Once Anthony Marano and its vendors figure out how to port the Wi-Fi-to-cellular roaming application the company uses to the Apple platform, the remaining 40 users will likely replace their various Nokia devices with iPhones, says Nowak.
For that reason, "I'm aware of iCloud, and I'm looking into additional capacity" to solve the problem, he says.

Mitigation Plan of Attack
For larger organizations, adding capacity alone might not be the answer, given the shared nature of the Wi-Fi spectrum and unpredictability of the updates. And while Apple allows individual users to specify which applications they want to back up with on/off check boxes to mitigate traffic, 451's Hazelton doesn't recommend leaving WLAN traffic management up to your end users.
"IT needs MDM [software or services] to deal with iCloud," he asserts.
MDM is a budding category of software and cloud services that allow enterprises to gain control over the many aspects of their mobile devices, users, applications and security using a special mobile policy-setting and enforcement engine. With an MDM solution, available from more than 60 providers at the time of this writing, "IT would be able to turn iCloud off or block iOS devices from connecting," Hazelton notes.
"For seriously bandwidth-constrained enterprises, disabling iCloud via MDM is an option," agrees Burton. "However, with more users expecting a seamless home-to-work iOS user experience, I expect more enterprises to embrace iCloud with restrictions," Burton says.
He observes that most enterprise-class WLAN infrastructure vendors have added OS identification features to their Wi-Fi management software. The capabilities allow network administrators to tie a specific device type such as an iOS 5 device to a policy that controls access parameters, including rate limits, without administrative intervention.
His advice is to investigate these features. "Rate limiting iOS devices is probably the most graceful way to keep users happy and productive while preventing serious network strain caused by iCloud syncs and backups," he says.