The effort by enterprise IT organizations to redesign their data center LANs is getting a substantial amount of attention in the trade press. Just how widespread is the push toward redesign, really, and what factors are driving it?
Some recent Webtorials research provides some insight into the answer. A survey conducted for the
Webtorials 2011 Cloud Networking Report
asked 207 IT professionals whether their organizations had already redesigned, or expected to redesign in the next year, their data center LANs in order to support cloud computing in general and virtualized servers in particular. Table 1 summarizes their responses.

We can conclude from this data that the majority of IT organizations have already begun the process of redesigning their data center LANs and that supporting server virtualization is a key factor driving that trend. However, as the same research report points out, support for server virtualization is far from the only factor driving LAN redesign. Another survey question asked that respondents indicate which of a broad range of factors was the primary one driving LAN redesign in their data centers. Their responses appear in Table 2.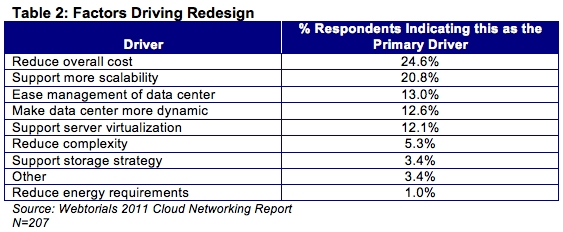 Despite all the current discussion about energy consumption, Table 2 shows that reducing power requirements in the data center is not a primary factor driving IT organizations toward LAN redesign. Why not? Because, compared to the amount of power consumed by servers, the amount consumed by LAN switches is minimal. Furthermore, several other factors frequently reported on in the trade press - such as reducing complexity and increasing security - also failed to rank as important drivers of data center LAN redesign.
It's All About Cost...Or Is It?
Reducing cost emerges as the number-one factor driving IT organizations to redesign their data center LANs. This isn't surprising, as cost reduction is typically an important driver of any change in IT. What seems more unexpected is that support for server virtualization didn't make it to the top of the list. Then again, that could be misleading, as server virtualization is a contributing element of every one of the top factors on the list. For example, a primary reason IT organizations implement server virtualization is to reduce cost, both capital expenses (CapEx) and operating expenses (OpEx).
Server virtualization is also a key element in helping IT organizations implement a dynamic data center. And the fact that an increasing number of data center components, such as servers, are virtualized leads to the need to better orchestrate those components to ensure that appropriate resources are dynamically allocated and de-allocated as needed. As for scalability, it is not uncommon for a Global 2000 company's data center to have 1,000 to 2,000 servers. As IT organizations look forward a few years to where the vast majority of those servers are virtualized and each supports 10 to 20 virtual machines (VMs), the total number of VMs that must be supported could well rise into the tens of thousands.
The Path Forward
Without a doubt there is wide interest on the part of IT organizations in redesigning their data center LANs, primarily to lower costs and enable the adoption of a dynamic, virtual data center. However, the types of designs IT organizations will actually implement - and the technologies and vendors they will use to implement them - remains uncertain.