If it works, keep it. That is what many in the IP community are saying even though we are rapidly running out of IPv4 addresses to allocate. IPv6 adds the capacity for more addresses. However, IPv6 standards also cover other changes that are described in about 40 documents called "Request for Comments" (RFCs). The new expanded address field is only one of these RFCs. So when someone proposes to migrate to IPv6, it is difficult to determine how much of IPv6 is being considered.
Most of the recent discussions have been related to addresses. Yes, we are running out of IPv4 addresses to allocate. There are about 3.7 billion available addresses - of which 99.8% are allocated. While most IPv4 addresses have been allocated, not all are in use: industry experts estimate that 800 million to 1 billion allocated addresses remain unused.
Who is in Charge?
There are five Regional Internet Registries (RIR) that allocate IPv4 numbers, mostly based on scarce resource stewardship policy underpinnings. Each covers a different geographic region. These include:
The American Registry for Internet Numbers (ARIN)
African Network Information Centre (AfriNIC)
APNIC Pty. Ltd. (APNIC)
Réseaux IP Européens Network Coordination Centre (RIPE NCC)
Latin American and Caribbean Internet Addresses Registry (LACNIC)
Because of the scarcity of addresses, those who apply for more addresses have to justify their need. Usually only small blocks of addresses are awarded, about 1000 at a time.
IPv6, a Slow Go
There are several reasons that for slow IPv6 adoption:
IPv6 is not backwards compatible with IPv4
To date, migration is moving slowly (~6% penetration globally)
Full migration may take a decade or more
There is a cost with a hard to justify ROI
The technical complexity is beyond many network staff
There are not enough other organizations and content using IPv6 to justify investment
The implementation of dual stack endpoint and infrastructure software
Application modifications
Use of Carrier-grade NATs (CGNs) which reduces IPv4 address consumption by network operators which inhibits Internet innovation and openness
A recent
Network World article
points out that the U. S. Defense Department (DoD), which committed in 2008 to move forward with IPv6, has been slow to implement, "The Pentagon's groundbreaking IPv6 project hasn't broken much ground"
The Network World article stated, "The U.S. Department of Defense hasn't followed through on its commitment to convert to IPv6, the new Internet standard designed to make room for an explosion of new connected devices.
The DoD demonstrated IPv6 in 2008 but then disabled the technology because it didn't have enough people trained to use it and was worried about potential security risks, according to a report by the Inspector General of the department. The Inspector General issued the report internally in December and [it later]
released a redacted version
to the public."
Similar reasoning appears to be true for other organizations. Therefore organizations are looking to use IPv4 for as long as possible. They will eventually have to migrate to IPv6. Postponing the migration can push the staffing and cost issues 3 to 5 years in the future.
Adding IPv4 Addresses
There is a relatively new market in the re-distribution of IPv4 address. Because the market is so new, it is hard to quantify the total quantity of IPv4 address changes reflected in the ARIN transfer records since transfers can be performed "off the books." What has been determined is that in 2014 at least 4.5 million addresses were traded in North America (NA). So far in 1Q 2015, over 11 million addresses were traded in NA.
The mechanism for re-distribution of addresses has emerged, allowing organizations to delay the IPv6 migration because there will not be a compelling ROI.
How long address-trading market will exist depends on the transfer rate. A fast rate of 176 million/year predicts that all the unused addresses will be consumed by 2019. If the rate is slow, 84 million/year, then IPv4 address exhaustion will occur in 2024.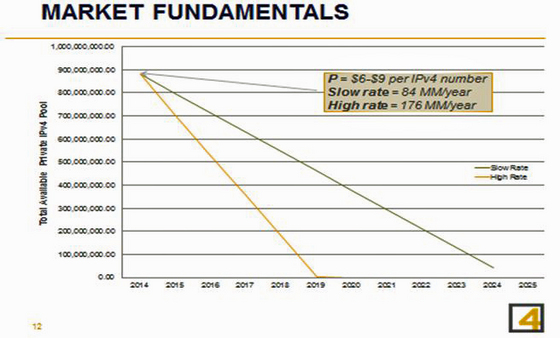 Adding to the Address Pool Risks?
Since this is a new market with participants that may or may not be reliable, the organization looking for more IPv4 addresses will be taking some risks. These risks can be mitigated by selecting the right support organization as an advisor.
The risks that will be encountered include:
Verifying and distinguishing the quality of IPv4 numbers for sale, who owns them, what is the proof of ownership, do they have the right to sell the IPv4 addresses.
Establishing a fair market price since there is little data on the market available publicly.
Entering into voidable transactions susceptible to RIR challenge where the RIR may reduce or block the sale.
Finding trusted and experienced advisors. There is no barrier to entry or qualifications required to become an address broker. Evaluating the reputation, experience, and ethics is difficult.
The buyers and sellers need to look out for questionable practices that introduce buyers/sellers to considerable (and unnecessary) risk.
Conclusion
Some organizations have plenty of reasons to avoid a near term transition to IPv6, and a new market has been established to supply unused but allocated IPv4 addresses to those who need them. How long this trading solution will last depends on the rate of trades, but at least for the next four years, users who want to avoid IPv6 have options to do so.