The contact center is about agent productivity and customer satisfaction. And most customers are using social media.
As a result, customers expect near instant interaction. Waiting 24 to 48 hours does not cut it. Closed for the weekend does not do it, either. According to Forrester Research, 16% of customers have already used social network sites to publish negative reviews. The contact center, then, needs to embrace social media to stay on top of this activity, assuage negative posts and improve the company's interaction with customers.
Marketing departments, too, can use social networks to foster brand advocacy and to sponsor online focus groups for discussing existing and/or planned products and services. Human resources can use them for employee recruiting.
Exploring the Value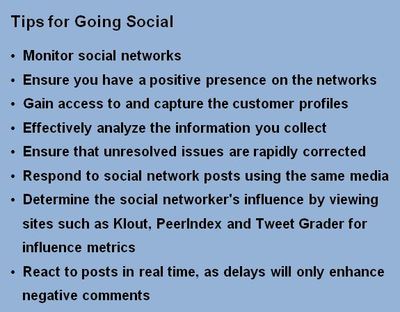 These are just a few examples of how enterprises can gain significant value when they embrace social networking. A common task is to collect and analyze customer complaints that are posted outside the enterprise's Web site. This monitoring can help to rapidly alert the enterprise and can be used to issue responses that will contain and defuse the complaints.
Social networks can enhance communications with the customers, shareholders, the press and others. This can be accomplished by using blogs that distribute information, elicit discussions and provide forums for customers to interact with each other.
Micro blogs like Twitter can be used to highlight or announce information and to monitor online discussions. Social networks such as Facebook, YouTube, Yelp and LinkedIn provide access to many forms of content such as videos, surveys and news. Chat can be used by contact center agents to offer assistance and improve product and service sales. All of these actions can increase customer loyalty.
Creating a Social Media Command Center
Gatorade is one company that has stepped up to the plate to monitor the day-to-day activities of social networks. The company tracks its best performing campaigns at its specially designed Mission Control Center and then distributes the campaigns to its Facebook and Twitter followers, usually as videos. The control center focuses on blog trends immediately and then Gatorade decides how to proceed with its promotions. This has increased product education by 250% and dropped the site exit rate from 25% to 9%.
You can find more details about this interesting marketing application of social media at
Gatorade's Mission Control Center site
.
B2B Applications
Social media can also be used for business-to-business communications, adding another dimension to partnerships and interactions. Social media can be used, for example, to help business partners market the enterprise's products and services. This improves the potential sales of a value-added reseller (VAR) and can increase the VAR's credibility with its customers. Partners can be alerted to special events, announcements, market changes, news and special promotions in addition to the usual communications channels that are in place.
Who's in Charge?
A major question is who should manage social media communications? In some enterprises, social networking is a tool of the marketing department. However, there is concern that the contact center is better qualified and experienced to be the lead in social network communications.
A recent Gartner report found that 75% of organizations do not connect social media operations with the contact center. Integrating social media across marketing and the contact center, however, is important to obtain the full value of social networking. Whoever is in control, they will have to be trained, and the enterprise has to develop social networking policies.
A good resource on the contact center and social media is an e-book, "
Social Media and the Contact Center for Dummies
."