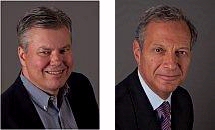 Over the last few years, large enterprises have begun to reap the benefits of moving from "traditional" TDM technology - PBX trunks and the like -- to SIP trunking for voice services. SIP, if anyone doesn't know it by now, is basically a way to provide voice as an application over IP data networks. To be precise, traditional TDM trunks use dedicated bandwidth for each call, and the call control is provided by in-band signaling or, if the trunks are ISDN trunks, the "D" channel. SIP (Session Initiated Protocol) provides a standardized signaling protocol for Voice over IP calls.
LB3 and TC2 are doing a lot of transitions from TDM to SIP- it's moved from "cutting edge" to "off the shelf" and is now part of pretty much every Fortune 100 network RFP. Like all technology transitions, it's complicated. When considering a move from "traditional" voice to SIP trunking, enterprises may find the following of interest.
1. Part of the complexity is technical. Service Level Agreements (SLAs) for SIP are one obvious issue. Sizing access pipes (SIP typically rides on an existing MPLS network) is another. Then there's how many trunks you need to handle busy hour traffic (remember Erlang-B tables?).
2. Another issue that gives users pause are the pricing/rate inconsistencies between SIP trunk providers, both in the trunk (i.e., the concurrent call path) and the related minutes of use elements. Like MPLS in the early days, there is no uniformity in approach, so a fair amount of inventory and bid analysis is required to sort out the real cost of different vendors/bids. For example, do you need failover capability from one data center to another in a centralized deployment (this is both a technical and pricing issue)? How about DID numbers for each remote location? The transfer of toll free calls from SIP termination to another SIP termination (or to a legacy TDM location)? Each supplier treats these elements differently.
3. Then there are the contract issues. The biggest up-front problem is making sure that your existing contracts don't restrict, or "tax," the transition, either because of restrictions on migration or because of early termination or shortfall charges that you may incur if you move "too soon". AT&T (which has resisted SIP far more than Verizon) has been particularly bad in this regard. Even as it loudly proclaims the need to phase out legacy PSTN services, AT&T often structures its legacy local services agreements to prevent users from moving away too quickly (think "managing the legacy revenue.").
4. When sourcing SIP Trunking, consider the following up front:
a. Interoperability between your specific IP voice and related equipment (gateways, Session Border Controllers, IP-PBXs, etc.) and the carrier's network (this has improved greatly in recent years),

b. Bandwidth requirements at both the data center and remote WAN locations (a function of traffic volumes, percent "on-net" vs PSTN-bound, codec choice for voice compression, supplier ability to aggregate bandwidth across the network in a "burstable" model, etc.),

c. Legacy voice usage elements and how they are presented in the SIP future state pricing request (interstate vs. intrastate, features, etc.). Know your traffic!

d. Availability of the supplier's SIP Trunking service across your corporate footprint. The request for proposals is a chance to pin this down by providing a list of your U.S. locations and asking each vendor to identify locations where its SIP service is not available (and the timeline for it to be available),

e. Any potential problems with existing contracts (such as early termination penalties, minimum revenue commitments/potential shortfall impacts, etc.), how they might impact the procurement and deployment timelines, and possible plans to mitigate.
For a deeper dive, the CCMI "Negotiate Enterprise Communications Deals" seminar devotes a couple of hours to the subject.
5. Lest we sound overly negative, when properly done (which can be over time - you don't need to flash cut all locations to SIP simultaneously), SIP transitions can produce substantial savings and free you from the tyranny of your least favorite telecom vendors/contracts (that would be the ILECs). SIP is also an area where some of the second tier vendors - XO, tw telecom, Level 3 - have good offerings at good prices.
6. Finally (marketing alert) for the reasons listed above and a few others, this is likely an area where the first time you do it you want some outside help. As they say to first year medical residents: watch one; do one; kill one.
We wish you good luck in your SIP Trunking sourcing efforts.