(Sponsor-Contributed Paper)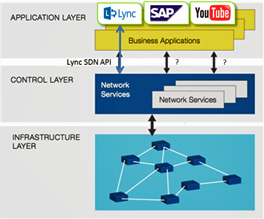 Dedicated to the promotion of SDN, the
Open Networking Foundation
(ONF) defines "
Software-Defined Networking as an emerging architecture that is dynamic, manageable, cost-effective, and adaptable, making it ideal for the high-bandwidth, dynamic nature of today's applications
". This SDN architecture decouples the network control and forwarding functions enabling a programmable network. Typical use cases are campus, (private or cloud) data centers and carrier networks.
In a significant step in that direction, Microsoft recently released its
Lync SDN API
, providing a REST data stream of information about media flows as they get started. This data can then be fed into an SDN controller to enlighten the network about Lync activity. Typical uses cases are diagnostics, automatic provisioning of QoS and orchestration.
Another flavor of SDN architecture consists to close the application traffic loop within the control layer itself. A DPI (Deep Packet Inspection) function is embedded in the data layer, classifying each application flow.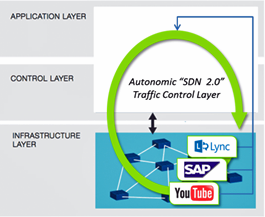 By coupling the DPI with the Autonomic control plane, we obtain an "SDN 2.0" traffic control layer that presents many advantages for controlling application performance, among which:
Speed and Accuracy: the shorter control loop results in faster and more accurate adaptation to the actual user traffic;
Scalability and resilience: leveraging the distributed nature of the autonomic control brings unlimited scalability and resilience to the whole architecture;
No dependency and completeness: the ability to control all the application portfolio removes dependency on applications release or API availability;
Simplicity and lower cost: the integrated nature of the different functions enables a simpler implementation scheme with fewer components and reduces operation workload.
While the "standard" SDN architecture is the enabler of a flexible and manageable infrastructure, we believe "SDN 2.0" autonomic traffic control to be the ultimate solution for automatically aligning applications and network in real-time from a global basis.
Sci-Fi? Just have a look on Ipanema's
Autonomic Networking
solution and you'll see that SDN future is now.