Webtorials has just completed the data collection phase for the 2015 WebRTC State-of-the-Market report, and we have found that IT managers are notably more familiar with WebRTC this year than last.
More importantly, the market is rapidly embracing WebRTC as a useful protocol for a variety of uses - a scenario our 2014 report predicted. The increased interest was also apparent with the standing-room only crowds of on-lookers at WebRTC demos seen at last month's Enterprise Connect conference held in Orlando.
To whet your appetite for the full report we'll give you a quick preview. The pie chart below profiles the current state of respondents' plans: almost half of the respondents either already have deployed at WebRTC-based support / applications or are planning to do so within a year.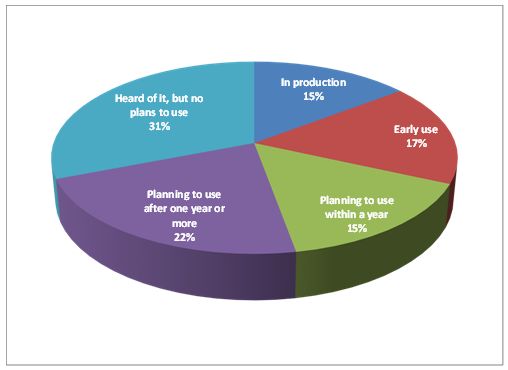 We'll share more of the analysis in the near future, but meanwhile we can provide some examples of 2014 WebRTC deployments that are further evidence of our study's findings. These include a distributed contact center, a distance learning platform, and multiple examples of video collaboration.
Thin, Thick, Stuffed, or Classic?
Pizza Hut relies on Intuitive Solutions managed contact center services to take its pizza orders using infrastructure provided by LiveOps, a cloud-based service infrastructure provider. Last year, Intuitive Solutions adopted LiveOps' WebRTC solution. Intuitive Solutions provides managed contact center services to pizza franchisees including Pizza Hut.
In an interview, Tory Rutledge, COO at Intuitive Solutions, explained that her company has "brick and mortar" contact centers, but they needed more capacity with in-home agents. They originally used a VoIP solution to route incoming customer calls to agents, but with the WebRTC solution, agents now use a browser-based platform that includes a desktop agent complete with full phone features - eliminating the need for plug-ins or a separate telephony infrastructure.
Customer service agents connect to the Internet and log into a secure website to access the customer service screen. Using a softphone to process customer delivery orders, the calls are routed directly via a web browser, eliminating the need for VoIP-based or legacy phone systems. The LiveOps WebRTC solution also has integrated scheduling features and other apps needed to support the business.
Jim Mooney, vice president of operations at MUY! Companies (one of the U.S.A.'s largest franchise restaurant companies with 232 Pizza Hut locations) said in a statement that the WebRTC solution has enabled consistently increased "agent productivity in phone sales and customer service within the fast-paced restaurant industry."
Reimagining and Reinventing Education
Blackboard is a leading education technology company, best known for supporting a range of collaboration and online learning tools servicing higher education, K-12, corporate organizations, and government agencies around the world. Last year, Blackboard acquired Requestec, a WebRTC technology provider that has been delivering conferencing and collaboration solutions since 2007.
While Requestec will continue to support its existing customer base, Blackboard is using the Requestec platform to reinvent and revitalize its educational product portfolio, using collaboration protocols such as H.323, SIP, HTML5, Flash, WebRTC, and a variety of video codecs. The platform also provides gateway capabilities to connect user devices that may have otherwise been incompatible, along with a media server to connect hundreds of simultaneous users in a single conference or virtual classroom.
Blackboard demonstrated how Requestec's WebRTC platform can enhance educational collaboration at its user conference last summer. Commenting in a statement, Mark Strassman, Blackboard's SVP for product management, said, "WebRTC will revolutionize video conferencing as we know it. It will provide the best synchronous learning experience - better than anything that is available in the market today."
In his blog, Strassman said, "The need for easy to use and easy to manage collaborative learning tools has never been more important. This dynamic new technology will not only keep our customers ahead of the curve, but also redefine how students, teachers and administrators engage with each other and how institutions scale to accommodate new learners."
In a follow-up interview, Strassman added that online educational programs are growing at 10 times the rate of traditional programs, with 100 million more learners expected to use a global higher education system within the next decade. New features will also continue to evolve for Blackboard with a near-term focus on increased collaboration capabilities, improved workflows, and further refinements to the user interface.
Video Chat: 80 Choices (and Growing)
According to
WebRTC World
, over 80 companies offered a WebRTC-based video platform for demonstration or development. Some of the solutions support a simple point-to-point video call, while others also include value added features such as network management tools, multi-party bridging, and video gateways (with transcoding) to interoperate traditional video conferencing services and platforms.
For example, Orange Business Services uses WebRTC for some applications to more efficiently deliver video collaboration. Specifically, Orange Business Services recently signed a deal with Bharti Airtel for inter-provider connectivity that enables Airtel Managed Video Conference Service customers and Orange Open Video Presence Community customers to collaborate via video using any approved endpoint.
WebRTC Supported by Top Tier Providers, Suppliers
WebRTC has been embraced by some of world's largest global service providers and top tier infrastructure suppliers including Sonus Networks, a top tier infrastructure provider to carriers and enterprise networks.
The Sonus Networks' platform is designed so users can place a call, participate in multi-party video and audio conferencing, share screens and files - all using native browsers and mobile applications. The Sonus WebRTC solution includes a WebRTC gateway that enables interworking from WebRTC to SIP, as well as a software development kit (SDK) that provides APIs for voice, video, IM, desktop share, session management, presence, and conferencing.
TokBox, a provider that develops and operates OpenTok as a leading global WebRTC Platform as a Service (PaaS), has been owned since 2012 by Telefonica Digital, a division of Telefonica S.A. OpenTok is a leading WebRTC platform for adding live video, voice, and messaging to websites.
Other global service providers are also enthusiastic. In a recent interview, Anthony Bartolo, the President of Mobility and Collaboration at Tata Communications said that he and his company "are huge fans of WebRTC" and they have launched a developers' tool kit complete with SDKs and APIs to enable WebRTC integration with their unified communications and collaboration suite. Tata is "seeing it take off with carrier partners and larger enterprises."
In Conclusion
Make sure to look for the final WebRTC State of the Marker Report in the coming weeks. And don't be surprised if you find out that the report highlights an uptick in WebRTC awareness, support, and deployment in the coming year.