For over a decade, 802.11 wireless LANs have made extensive use of the 2.4 GHz band. This unlicensed radio frequency band drove Wi-Fi's success by letting anyone create their own WLAN that could span a typical home without drowning out neighbors.
But the 2.4 GHz band has become a victim of its own success, clogged not just with Wi-Fi, but also Bluetooth, cordless phones, wireless cameras, Zigbee and other interferers. As Wi-Fi products evolved from 802.11b/g to n, channel width and utilization grew, further crowding an already small, congested swath of spectrum.
With the advent of 5 GHz-only 802.11ac, has the time finally come to abandon the 2.4 GHz junkband? If so, what strategies can be employed make more extensive Wi-Fi use of the larger, cleaner 5 GHz band while minimizing disruption and cost?
Fostering migration to 5 GHz
Aruba Networks Director of Product and Solutions Marketing Ozer Dondurmacioglu, says that 802.11n kick-started 5 GHz migration, but 802.11ac will shift it into high gear.
"Many legacy devices were built with 2.4 GHz only; we did not see many 802.11a-enabled [5 GHz] mobile devices. [This] effectively means that 2.4 GHz will have to serve legacy and 11n/11ac devices, further limiting total available network bandwidth," he said. To communicate more efficiently, Dondurmacioglu expects the majority of new smartphones, tablets and laptops will be capable of operating at 5 GHz.
Chris Spain, Vice President of Product Marketing for Cisco's Wireless Networking Group, predicts a rapid shift in mobile device support for 5 GHz. "An increasing percentage of new mobile devices provide dual-band capability, and they generally prefer the less congested 5 GHz band," said Spain.
Based on anecdotal feedback and measures taken at public events, Spain says the number of 5 GHz-capable devices has doubled in the past two years. For example, 5 GHz devices used at the Mobile World Congress grew from 29% in 2011 to 60% in 2013. A full 38% of devices at the 2013 Super Bowl operated at 5 GHz. "We can expect general use to follow closely as subsidized phones are replaced with newer models," said Spain.
One factor driving mobile device manufacturers to move to 5 GHz: battery life. Improved rate over range experienced by new 11ac devices on less congested 5 GHz channels means transmitting for shorter periods, consuming less power. On small mobile devices, this extended battery life is a really big deal.
But who gets left behind?
However, Dondurmacioglu does not see smartphone and tablet migration to 5 GHz putting a quick end to 2.4 GHz support. "We continue to recommend that our customers and partners use dual-radio APs. Machine-to-machine communication over Wi-Fi and printers, game consoles, and other Wi-Fi enabled peripherals will continue to use 2.4 GHz," he said.
Hemant Chaskar, Vice President of Technology and Innovation at AirTight Networks, expects 5 GHz migration to occur gradually due to natural forces, including coverage/capacity/cost tradeoffs.
"Networks are still designed first for coverage and then for performance. This makes 5 GHz more expensive due to the cost of more APs, controllers and Ethernet drops," explains Chaskar. High network utilization will justify this additional infrastructure investment in some cases, but not in all - at least not immediately.
As a result, AirTight recommends that mission critical WLANs be designed to operate on 5 GHz only and standardize on 5 GHz devices. Guest WLANs and best effort applications should be supported concurrently on 2.4 GHz, says Chaskar.
"For customers wanting 5 GHz migration, we recommend a 50/30/20 formula, using dual-radio platforms with 50% of radios [configured to operate] on 5 GHz, 30% on 2.4 GHz, and 20% for Wireless IPS," said Chaskar. This strategy yields higher radio density at 5 GHz to address that band's shorter range, while utilizing those "extra" 2.4 GHz radios present in dual-band APs to scan the air for security purposes.
Completing the transition
According to Spain, IT administrators should get prepared to take advantage of 23 non-overlapping 5 GHz channels that provide cleaner reception. "Technologies that help in the migration process include implicit beam-forming and band-select, which steers [dual band] capable devices to the 5 GHz band," he said.
In fact, regulatory efforts are expected to free up more 5 GHz spectrum to satisfy sky-rocketing Wi-Fi demand. In comments made at CES 2013, FCC chairman Julius Genachowski said work is now underway to expand available space by about 35 percent.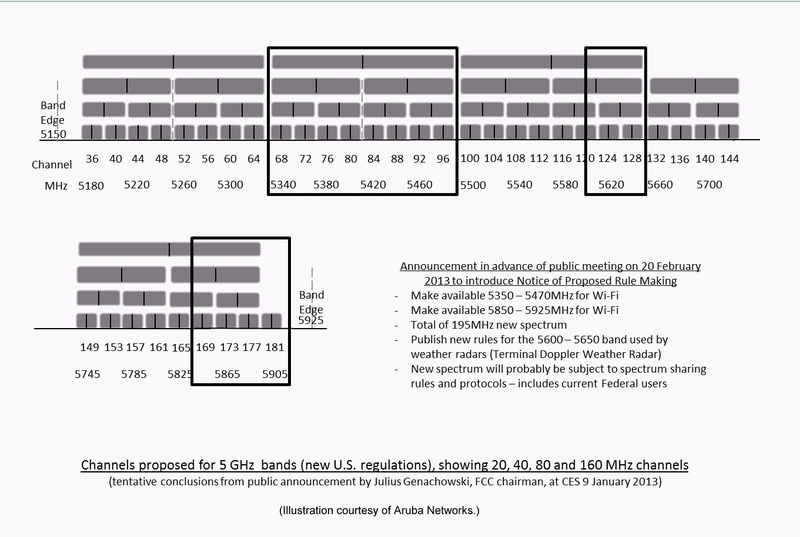 Ultimately, 802.11ac will require spectral planning - and not just for legacy 2.4 GHz support. "The major guaranteed speed advantage in 802.11ac comes from channel bonding. Other [enhancements] such as more spatial streams, multi-user [MIMO] and 256 QAM are more of a statistical nature and not expected to be in mainstream use for some time," said Chaskar.
While channel bonding - that is, moving from 11n 20/40 MHz channel widths to 11ac 80, 80+80 and 160 MHz channel widths - increase transmission speed per stream, wider channels are less efficient from an overall network capacity perspective. "Due to increased interference exposure, wider channels back off more and make others back off more in CSMA/CA," explains Chaskar.
"Total cargo carried over a highway would be less if trucks were twice as wide, since they occupy two lanes at a time, making the third unusable," says Chaskar. However, three single-width trucks traveling the same highway could transport 50% more cargo. This is why Chaskar recommends using 40 MHz channels in enterprise settings where a large number of users need airtime - many of whom do not need gigabit data rates that 11ac is capable of reaching.
Clearly, finding the best way to utilize 5 GHz will take time - and will likely change along with the capabilities of future generations of 11ac devices. But it's time to start weaning legacy devices off the 2.4 GHz junkband, using reduced 2.4 capacity, band-steering and better performance at 5 GHz as carrots to speed that migration.