You may already use SIP trunks for voice and fax communications. As your organization moves further into collaboration, video communications will start to consume a significant amount of bandwidth over the SIP trunk. Proper planning can avoid voice and video degradation and prevent over subscribing the bandwidth because the designers are playing safe but costing the enterprise valuable network dollars.
According to the May 2013 Cisco Visual Networking Index, "IP video traffic will be 73% of all IP traffic (both business and consumer) by 2017, up from 60% in 2012. This percentage does not include the amount of video exchanged through peer-to-peer (P2P) file sharing." This is shown in the table below, accounting for both managed IP video and Internet video growth.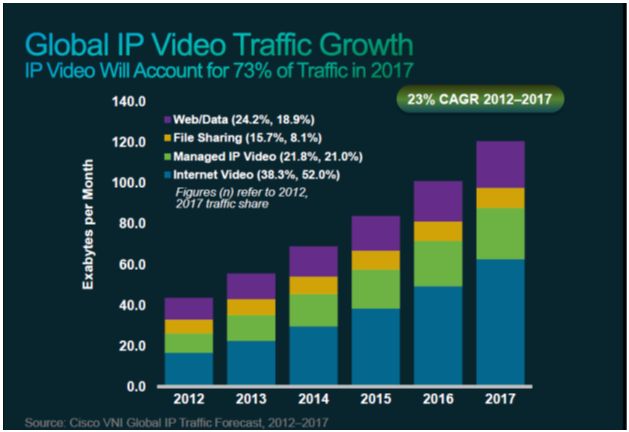 Multiple Types of Video
You may encounter several video types, including:
Interactive video such as video conferencing, WebEx like traffic, and Telepresence
Steaming video which can include security cameras, one way presentations, and training/education videos
Entertainment or commercial videos such as those delivered by Netflix, Hulu, news broadcasts, and YouTube.
All three types of video will not have the same bandwidth requirements. The video resolution with the associated video codec and the voice codec bandwidth will vary. Some use standard codec designs while others are proprietary.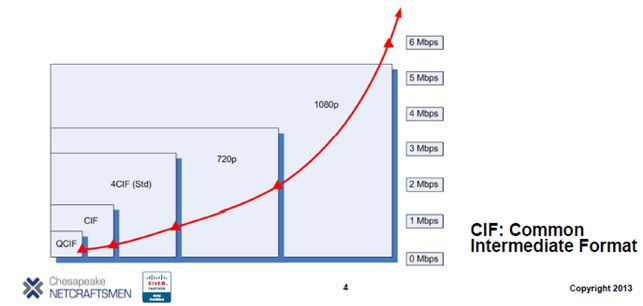 B
andwidth Consumption Rises with Video Resolution
How Much Bandwidth is Needed
The bandwidth requirements will depend on the video compression technique used in the codec. The table below provides some approximate bandwidth requirements for various video transmissions--although these may vary by supplier depending on how the service is designed and deployed.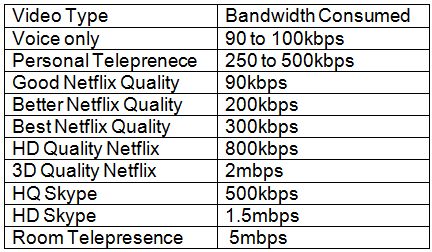 When two parties are in a video conference managed by a Multipoint Control Unit (MCU) using 250kbps as an example, then one session is required and 250kbps of bandwidth is consumed at each endpoint. When a third person enters the conference, then two sessions are required and 500kbps is consumed. Adding a fourth person to the conference means that three sessions are required and 750kbps of bandwidth is consumed. If room Telepresence is used, a four site conference would consume 15mbps at each site and three sessions.
There is at least one cloud based video service which operates with software driven endpoints, managing multiple users in a video conference by varying the bandwidth thereby using the bandwidth more efficiently. This service performs continuous monitoring of the bandwidth usage and packet loss, adjusting for the best possible quality based on network dynamics and user parameters. Think of this as adaptive bandwidth control. Note that MCU bandwidth management allocates bandwidth in advance and typically does not vary the bandwidth during the video conference.
Another technique that can reduce bandwidth requirements is by enabling active video windows only when a participant is active at a remote location. If the location is connected but no one present is speaking, then that site's transmitted bandwidth can be reduced in real time by eliminating the outgoing video window from the conference screens. When participants speak, then more bandwidth is allocated to that site to add their video image into the conference.
When streaming video is used, you will need one session and the appropriate bandwidth for the level of video resolution required. Adding more receivers of the stream means more sessions and more bandwidth. If however, multicast IP is used, then the network does the distribution, reducing the need for multiple sessions. With multicast, the network will multiply the number of receivers instead of burdening the SIP trunk, a feature than can also reduce the number of SIP trunk licenses. (Note: streaming video should be given a lower priority / QoS level, thereby favoring real time video when bandwidth is limited.)
TCP vs. UDP Video Transport
When a video conference is established and it is interactive, then the video is transported over UDP. UDP assumes there is enough bandwidth for the connection. If there is not enough bandwidth, then packets can be lost and the video quality degrades.
In a streaming situation, the video is usually carried over TCP. TCP has packet flow control which reduces the packet transmission rate when the network becomes congested. In this case, the video freezes momentarily rather experiencing video quality degradation.
Congestion during Video Transmission
The SIP trunk designer must keep in mind that the trunk is carrying voice and possibly data applications. The data applications will most likely be using TCP. The data applications and streaming video will slow down during congestion. The interactive video and voice quality will degrade during congestion.
This is where call admission control (CAC) becomes important. CAC is in control of the bandwidth allocation for the trunk. When there is not enough bandwidth, the CAC should block any new connection requests. The CAC produces the equivalent of a busy signal thereby blocking any more connections until the bandwidth in use decreases.
Another congestion solution is to institute Quality of Service (QoS). QoS will prioritize the packet forwarding. High QoS levels should be assigned to the interactive voice and video connections to assure higher priorities for real-time communications. Streaming video and data applications should be assigned lower QoS levels. If QoS management does not solve the voice and video quality issues, then either more bandwidth may be required or the call admission control (CAC) should reduce the number of simultaneous connections. A good goal is to keep the trunk utilization at or below 90%.
Managing the SIP License for Video
A SIP license is contracted for each session, irrespective of the bandwidth requirements, and your SIP trunk provider may require one or more session licenses for each video connection. The number of licenses is therefore determined by the number of video sessions that need to be supported during the busiest video transmission time. Even if a streaming video is being received, you may still need a license for the video session.
Conclusion
Video communications usage is growing rapidly, in part due to interactive video connections that can be managed as easily as a voice call. However, when deploying video over IP, enterprises need to plan both for the bandwidth needed and for the number of SIP trunks that may be needed.
Enough bandwidth must be allocated over the SIP trunk so that data applications do not suffer due to the video bandwidth consumption. Alternately, if software driven endpoints are used, then these could be monitored and the bandwidth allocation can be adapted to the activity of each endpoint reducing the bandwidth requirements.
The bottom line: If you ignore video bandwidth consumption and SIP trunk management, you risk data, voice, and video user satisfaction.
---