A key feature of unified communications is the ability to send video across a network. Two distinct mechanisms for doing this have emerged: videoconferencing and telepresence. The line between the two is blurring, however, as vendors introduce desktop telepresence and HD videoconferencing.
Why Video Communication?
Adding a picture (video) to a communication connection can enhance almost any user experience. Video conferencing and telepresence can boost productivity and reduce costs by allowing employees and customers to travel less. They can also reduce workplace stress by making the conversation more comfortable and relaxed for the participants, improve customer relationships, support remote training, and even reduce the time-to-market for new products and services by fostering faster/better decision making.
Videoconferencing emerged in the 1990s on ISDN and frame relay network connections. The advent of IP networking significantly expanded the number of potential users and increased available bandwidth, thereby improving the video quality. What was once a limited animation picture is now displayed in real time and full motion. Video and voice quality have risen to the point that participants may forget they are on a long-distance conference connection rather than in the same room.
Technology Choices
Videoconferencing can be implemented on a PC, laptop, tablet or mobile phone with varying degrees of picture resolution (not TV quality but usually good enough) and voice quality. It can be implemented as an application on an IP phone. There are no special room requirements. The participants see and speak to each other, but it is obvious that they are in separate locations.
Telepresence delivers a virtual experience where the participants appear to be in the same room. The screens display such high-resolution pictures that participants can forget that they are at remote locations. Many participants can easily be part of the same telepresence connection in the same room. Two or more remote conference rooms, identically furnished and decorated, are seamlessly connected as if there were only one room. The participants can be displayed on the screens in normal size, creating the perception that everyone is in the same room.
Personal telepresence with HD videoconferencing is essentially a high-resolution video connection that is designed to reduce the endpoint costs. Participants are not as immersed as in true telepresence, nor are the room arrangements quite as restricted. This compromise solution is best suited to a small number of participants, probably no more than two per endpoint.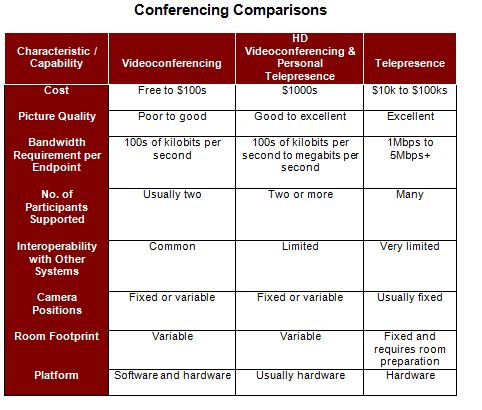 Making the Technology Decision
Videoconferencing is growing rapidly, especially as an application on existing devices. The enterprise can start small, with an application as simple as Skype and its limited-performance video calls. This will help to determine if video conferencing is of real value or just a technology to be used casually.
Depending on work environment and budget, the enterprise can implement many levels of videoconferencing and telepresence. Some enterprises have widely dispersed executives and experts who need to communicate frequently and for whom a conference phone call is not adequate. Telepresence not only improves the communication and reduces travel costs, but it can also cement better relationships and even reduce the stresses typically encountered with less immersive communication media.
Telepresence is expensive: rooms must be dedicated to the task and outfitted with appropriate equipment. There's an associated network capacity cost, too. Telepresence connections can consume 2Mbps to 10Mbps or more per endpoint for a two-site connection. Each additional participant will add 1Mbps to 5Mbps or more to the bandwidth requirements at each conferencing location.
To justify its use, telepresence must deliver high value and be used with some frequency. Videoconferencing is cheaper and better suited to the desktop. Whatever the choice, the enterprise needs to experiment with multiple forms of video communication and develop a sound return on investment (ROI) for the selected solution.
A useful set of references is the
Telepresence Option Series
, available at Webtorials.