New technology trends are in motion to help organizations extend cellular coverage and capacity inside their buildings to meet today's exploding wireless traffic demands.
For example, front and center at last week's Mobile World Congress (MWC) in Barcelona, Spain, were new "small-cell" in-building wireless solutions, some of which integrated multiple technologies such as distributed antenna systems (DASs), femtocells and Wi-Fi access points (APs).
MWC is an annual, GSM Association-sponsored conference and exhibition. In addition to yielding volumes of new consumer device announcements and mobile WAN backbone products, MWC also showcases the latest in-building licensed wireless network amplification and signal-delivery systems. Generally, the systems are adopted by mobile WAN operators, who, in turn, sell them to enterprise customers directly or via resellers. More recently, Wi-Fi offload - whereby mobile operators can use unlicensed Wi-Fi spectrum to supplement their networks for additional capacity - has been a big theme at MWC, too.
The Road to In-Building Success
There are many reasons to boost licensed mobile broadband signals indoors. Some buildings are too far from the nearest macro cellular tower(s) to pick up a signal, for example. Other buildings might consist of materials that the signals can't penetrate.
Other organizations might want to transmit and receive over public safety network frequencies in an emergency. In fact, public safety is likely to soon get more attention, given that late last month, U.S. President Barack Obama signed into law that the 700MHz "D" block of spectrum will be used to build a nationwide public-safety network.
Whatever the in-building wireless driver, traditionally in-building solutions have taken the form of a DAS, targeted at larger enterprises with deep pockets and carrier clout. A DAS takes signals from an in-building cellular signal source, such as a base station, and distributes them to antennas that have been traffic-engineered and installed all over the building. Signal distribution is via fiber, coaxial cable, a fiber/coax hybrid or, in some cases, your Ethernet backbone.
At the other end of the spectrum, so to speak, are femtocells. These "miniature in-building cell towers" were initially created for homes and small businesses covering up to about 5000 square feet.
And in-building options are finally emerging for mid-sized enterprises, largely overlooked until now. DASs are moving down market, while femtos are moving up market, for example, with Sprint leading the enterprise femto pack. There are also entirely new in-building approaches, such as SpiderCloud Wireless' Small-Cell Cluster Solution (see sidebar and table).
Obsession with Small Cells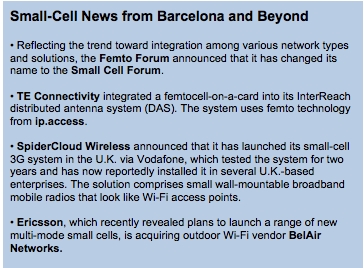 The small-cell trend is about reusing full spectrum as often as possible. You do this by placing signal sources closer together in a high-density design, thereby creating more, smaller cells, each with full capacity. This contrasts with traditional designs with fewer sources blasting out signals across long distances. In those networks, the signals are strongest near the source and the faintest at the outside edge of the big cell. Those setups aren't cutting it, indoors or out, with so many wireless users now vying for capacity and exchanging large data and video files.
"We need more stuff," says Joe Madden, principal analyst at Mobile Experts, a wireless consultancy in Campbell, Calif. "Nowadays, cell towers are fully occupied with users who are nearby; bandwidth isn't available to penetrate all the buildings. We need to reuse spectrum as much as possible. DASs are starting to include...femtos, and I think that's a good idea. We're also seeing consumer-grade femtocells scaling up for enterprises."
Small-cell, or high-density, wireless network designs are growing desirable in both licensed mobile broadband networks and unlicensed-spectrum Wi-Fi networks. And Wi-Fi is getting mixed in with operators' licensed-frequency network designs to boost capacity - an option particularly favored by AT&T. Traditional cellular network suppliers Alcatel Lucent and Nokia Siemens Networks, for example, announced at MWC that their small-cell portfolios will include support for Wi-Fi. Cisco unveiled a Small Cell Gateway, which the company said integrates 2G, 3G and 4G LTE networks with femtocells and Wi-Fi hotspots.
Conversely, Wi-Fi supplier Ruckus Wireless announced that it would be adding support for licensed-frequency small cells to its public hotspot technology.
And "more DAS providers will add Wi-Fi to their signal mix," says John Byrne, research director, wireless infrastructure at IDC.
Higher density designs for both mobile WANs and Wi-Fi are needed for stronger signals (more wireless bandwidth) everywhere there is coverage. In fact, the U.K.'s Informa Telecoms & Media issued an inaugural report on small cells during the MWC show reflecting this trend. The firm predicts that small cell deployments will grow from 3.2 million in 2012 to 62.4 million by 2016 - a 2000% (or 20x) increase.