Gartner Research expects Wi-Fi sales to leap from one billion units in 2010 to more than three billion in 2015, driven by 802.11ac - the successor to today's 802.11n WLAN standard. 802.11n is broadly supported today in devices from all major WLAN vendors.
"Given the current constraints of legacy 802.11 standards and the increased speed, capacity, coverage and battery life that 802.11ac offers, this next generation of Wi-Fi is poised for rapid growth across all product segments," writes Gartner research director Mark Hung.
But the ink on 802.11ac "Very High Throughput in 5GHz" specs will be barely dry when 802.11ad "60GHz Wi-Fi" comes along. Does this mean yet another technology quantum leap and costly upgrade? No. Let's look at how these two standards address different needs and what enterprises can expect from 802.11ac later this year.

Accelerating Wireless LANs: 802.11ac
802.11ac super-charges Wi-Fi to deliver gigabit throughput at frequencies under 6GHz - including the 2.4GHz and 5GHz bands occupied by 802.11n. Today's three-spatial-stream 802.11n products have a 450Mbps maximum data rate. Early four-stream 802.11ac products are likely to use better coding and error correction to double that rate over 40MHz-wide channels to hit 867Mbps.
Additionally, 802.11ac products will eventually be able to use 80MHz and 160MHz channels, doubling or quadrupling maximum rates. Boost the number of spatial streams up to eight, and 802.11ac products could reach 7Gbps.
But cool your jets. Application throughput is always lower than the theoretical data rate, and fatter channels quickly consume available spectrum. Even 40MHz channels are ill advised at 2.4GHz, hence the industry focus on 802.11ac at 5GHz.
Replacing A/V Cables: 802.11ad
802.11ad employs much of the same technology, but operates in the 60GHz band, providing fatter pipes at much shorter distances. "Where 802.11ac can [carry] up to three lightly compressed video streams, 802.11ad can deliver uncompressed HD video and cable-free docking at multi-gigabit rates, with very low latency," says Wi-Fi Alliance spokesperson Kevin Robinson.
Employing the same underlying technology for both short-range (802.11ad) and LAN (802.11ac) connectivity is expected to simplify roaming and security.
"We expect to see some devices that are 60GHz only, as well as dual- and tri-band devices," says Robinson. "Seamless session handover [in dual/tri-band devices] is important to show the complementary nature of these technologies and deliver a full solution."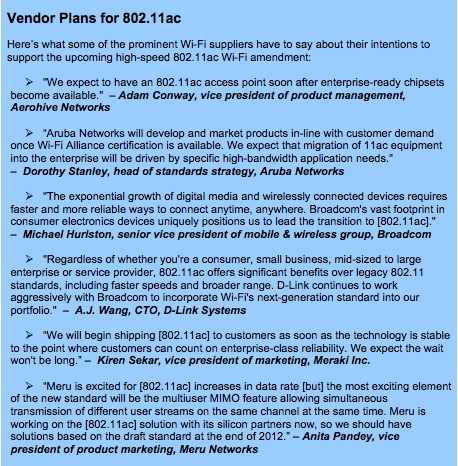 Race to the Finish Line
"Ratification of the IEEE 802.11ac amendment is not anticipated until late 2013; however, we anticipate Wi-Fi Alliance certification of pre-standard-based 11ac products earlier in 2013," said Dorothy Stanley, head of standards strategy for Wi-Fi company Aruba Networks.
Robinson confirms that 802.11ac interoperability plugfests are done; an 802.11ac certification program is expected to launch before year-end. 802.11ad certification is following a slightly later schedule, slated for early 2013.
Moreover, 802.11ac will be backward-compatible with 802.11n, meaning that new 11ac APs will talk to legacy 11n clients and vice versa, albeit at slower data rates and only when bands match. This should be welcome news for enterprises that are spending this year's budget deploying 802.11n.
What to Expect
Both 802.11ac and 802.11ad products were demonstrated at the Consumer Electronics Show in February. For example, chipset manufacturer Broadcom orchestrated a multi-vendor 11ac demo, enlisting support and participation from customers, including residential Wi-Fi players such as Belkin, Buffalo, D-Link and NetGear.
Demonstrated products used one-, two- or three-stream 11ac radios to achieve a range of faster-than-N data rates, to meet the needs of different kinds of devices. For example, Qualcomm demonstrated single-stream 11ac smartphone prototypes reaching upwards of 220Mbps - that's roughly twice as good as a comparable 11n smartphone. Better yet, battery life improves, since faster devices spend less time transmitting and more time sleeping.
CES demos hinted at a promising future, and so do early residential Wi-Fi products - commonly available well in advance of enterprise-grade gear. But when can enterprises expect to have 802.11ac gear ready to roll? We asked a smattering of enterprise WLAN vendors about product plans (see sidebar).
My advice: Enterprises should start planning now for limited deployments and pilots in 2013. Making the best use of 11ac (and later 11ad) will require some head scratching - especially around spectrum allocation vs. channel width vs. application need. Practice makes perfect, or so the industry hopes with this fifth generation of Wi-Fi products.