Reasonable users know better than to expect perfection when communicating over wireless. In cellular networks, for example, coverage, signal strength and capacity ebb and flow depending on user location, network utilization and carrier build-out strategies.
Still, mobile workforces are increasingly reliant on cellular - especially field service, public safety, transportation, logistics, insurance and others on-the-go. When folks who interact with mission-critical applications via cellular all day long can't connect, productivity plummets. What tools do employers have for getting mobile workers back in business when their connections go awry?
Somewhere in the Ether...
Historically, employers have lacked visibility into mobile WAN performance. As far as IT can tell, traffic exits a mobile worker's device, bounces around in the ether and magically arrives at its intended destination (or not). What happens en route is more or less invisible to IT.
This is why the City of Mesa Police Department in Mesa, Ariz, deployed Locality, a relatively new tool from NetMotion Wireless, to shed light on mobile network performance. "We were interested in the prospect of creating a cellular coverage map that had not been washed through someone's marketing department" to pinpoint why connections in supposedly well-covered areas were dropped, says Doug Scroggins, IT architect.
When the department migrated from its old Motorola DataTac network onto the cellular mobile data network, it had hoped to boost connection speed. "Overall, [the network] works well but is subject to all the things that can happen to public cellular connections," such as coverage gaps and unexpected performance degradation, Scroggins acknowledges.
In fact, mobile network operators don't offer service level agreements (SLAs) for availability, packet loss, latency and jitter akin to those available for business-class wired networks due to cellular's consumer orientation and inherent flakiness. Also, although it's common to blame wireless when a call or data connection slows or drops, sometimes the culprit isn't the network - it could easily be a faulty adapter, loose antenna, or old firmware in the user's device. How can IT determine and fix the root cause?
Tracking Mobile Network Performance
Fortunately, tools such as Locality and RootMetrics are giving IT some measure of visibility and control.
NetMotion created Locality as a cellular counterpart to wired network tools long used by IT, says Andy Willett, NetMotion senior vice president of sales and marketing. Locality agents are installed on each device, sampling GPS location, cellular signal strength, throughput, and connection status every five seconds. Samples are uploaded to the employer's Locality server every 30 minutes.
Using Locality's Web console, IT can easily view breadcrumb maps of past and current average signal strength and throughput to get a picture of what each user and device is experiencing, including 2.5G, 3G or 4G network type and coverage down to one square block, Willett says.
For example, if the Mesa Police Department determines an affected user has poor cellular signal strength, it won't waste time troubleshooting its own network. "Locality can tell us if [the issue is] in our control," says Scroggins.
Locality can also reveal trends, such as device types or firmware levels or users experiencing the most connection problems in areas with otherwise good signal and performance. This insight does more than confirm or refute carrier problems - it helps IT find and fix many culprits.
Currently, Locality agents run on Windows (the same field force customer base using NetMotion's Mobility XE VPN client). NetMotion expects Locality for Android by the end of the year; an Apple iOS agent is on the drawing board, Willett says.

Crowd-sourcing Performance Metrics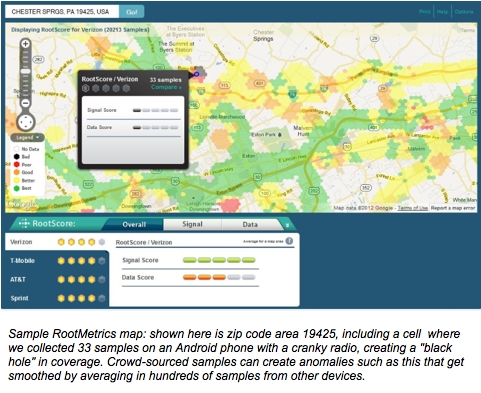 A far less granular but free mobile network performance measurement service is offered by RootMetrics.
Unlike Locality, which measures actual performance experienced by each company's mobile workforce, RootMetrics' cloud server gathers crowd-sourced test results from every deployed RootMetrics Android or iOS app. Aggregate signal strength and throughput are plotted on publicly accessible coverage maps and published in reports for all to see.
For example, RootMetrics recently reported that Long-Term Evolution (LTE) upgrades in Kansas City had caused AT&T's average download speed to jump from 4.1Mbps in August 2011 to 16.3Mbps, while upload improved from 1.5Mbps to 5.9Mbps. Over the same period, Verizon's average download speed increased from 1.2Mbps to 17.1Mbps; uploads jumped from 1.0Mbps to 10.7Mbps.
These metrics can help individuals and employers select the best carrier by eyeballing coverage maps corresponding to where users live and work. Where no test results are available, users can download a free RootMetrics app to run their own tests periodically, continually, or on-demand. New results are plotted within about 24 hours.
RootMetrics results have the benefits of being free, independently generated and available prior to major purchase decisions. However, crowd-sourced results reflect ALL tests - including those run by devices with cranky adapters or antennas (see screen shot) - and RootMetrics isn't designed to support per-user or real-time diagnostics.