Editor's Note: We recently published our 2014 WebRTC State-of-the-Market Report by Larry Hettick, Editorial Director and Senior Research Fellow, Webtorials. This TechNote by Gary Audin discusses another global survey that corroborates our findings on WebRTC adoption.

WebRTC is fraught with opinions but not much delivery. Opinions are however important since they provide direction about the development of WebRTC applications.
A private global survey by TokBox finds large enterprises are adopting WebRTC. The report looks at key differences between enterprises and startups, major drivers of WebRTC uptake, key challenges, and key industries affected by WebRTC, the death of the download, and the rapid decline of Flash. The survey and report preparation were conducted by in-house TokBox staff.
The survey of 1161 respondents found that large enterprises are catching up to the more small businesses when it comes to WebRTC adoption. More than 3 in 4 developers in the communications space say WebRTC is becoming critical, and in particular the customer service, education, and health industries. Three in four developers intend using WebRTC for audio and video apps.
The report found rapidly emerging interest from larger organizations (1,000+ employees). There was rapid WebRTC adoption amongst smaller companies (fewer than 500 employees) where more than one in four (27.1%) developers say WebRTC is already critical to their work.
Enterprise developers are particularly attracted by the ability to avoid downloads and also the simplicity, with no requirement for an AV expert. Alternatively, for SMBs, WebRTC's lower latency and higher video/audio quality are key factors contributing to its adoption.
Enterprise developers claim to have a higher degree of expertise with WebRTC, with one in ten (11%) claiming expert status, vs. 5.9% for SMBs. Other key findings and graphics from the report included:
1. Rise and Rise: Three in four developers intend to increase their usage of WebRTC over the next 12 months, 50% of them by a "significant amount";
2. Imperfect evolution: The biggest missing element of WebRTC is the inability for mobile/web interoperability (35%), followed by multi-party group support (23%), archiving/recording (15.5%) and phone to video chat connection (14%). Only 4% thought "nothing was wrong" with WebRTC.
3. Death of the client download: A major factor driving the move towards WebRTC is the removal of the need to download any client or software. Other drivers included low latency/less delay, not needing to be an AV specialist to use WebRTC, and higher audio/video resolution.
4. A legitimate data channel: SMBs show little interest in WebRTC for data (5.2% say they will use it) and audio (6.1%) is virtually non-existent. Enterprise developers are more likely to build apps utilizing these channels (10.4% will use data, 11.7% voice), although video capability is the most significant area of interest across both groups (86% for SMBs, 75% for enterprises).
5. Flash is fading: 41% of respondents do not intend to use Flash at all over the next 12 months, 19% will decrease usage. SMBs are more likely to use Flash, with 18% expecting to increase usage vs. only 12% for enterprises. In comparison, 75% will increase usage of WebRTC across both SMBs and enterprises.
6. Impact beyond video conferencing: Beyond video conferencing and telecommunications, the number one industry expected to adopt WebRTC is Customer Service (25%), Education (23%) and Medical/Health industries (17%).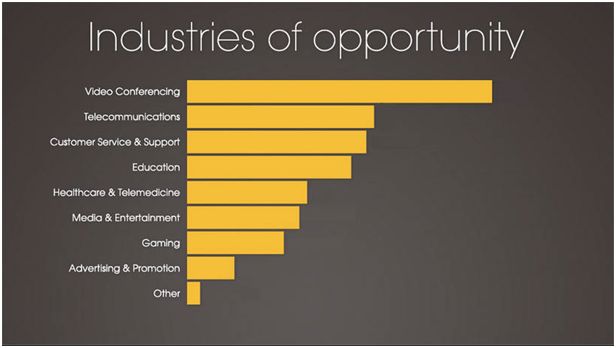 Ian Small, CEO of TokBox, commented on the findings: "These results overwhelmingly show that WebRTC is at the heart of change in the developer community, affecting industries well beyond communications. With OpenTok we have focused on evolving WebRTC into an enterprise-grade solution and the clear appetite from larger organizations shows we are on the right track. As the Web becomes a genuine platform for voice and video, we are seeing the imagination of the community drive a whole raft of use cases."
TokBox
is a Telefónica Digital company that develops and operates the OpenTok Video Platform which adds live video communications into online and mobile websites, apps, and services.
OpenTok is the first platform to incorporate support for WebRTC that caters to enterprises, entrepreneurs, and developers with APIs, a global cloud infrastructure, and pre-configured solutions. OpenTok has been used to add video communications to more than 70,000 services by companies.