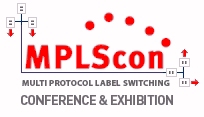 MPLScon 2006

Conference Proceedings
Webtorials is pleased to serve as the official archive site for the MPLScon.
Return to the Newsletter Depot and Conference Archives
Return to the Network Access and Infrastructure Webtorials Menu
Please note: Each presentation is available as a .pdf file. Some of the files are rather large and you may experience longer-than normal download time. Also, depending on your browser, browser settings, your connection speed, and numerous other factors, it is possible to experience a wide range of conditions that are beyond our control. For that reason, we recommend "right-clicking" on the presentation to download the file, especially for the larger files. Please click here for more help with .pdf downloads.
Please note: By downloading this information, you acknowledge that the sponsor(s) of this information may contact you, providing that they give you the option of opting out of further communications from them concerning this information. Also, by your downloading this information, you agree that the information is for your personal use only and that this information may not be retransmitted to others or reposted on another web site. Please encourage colleagues to download their own copy after registering at http://www.webtorials.com/reg/.
Monday May 22, 2006 - MFA Forum Tutorials

Tuesday May 23, 2006 - MPLS Directions and Shared Experiences

Wednesday May 24, 2006 - Moving Beyond Service Delivery
Thursday May 25, 2006 - Enterprise Track

Thursday May 25, 2006 - Service Provider Track
All trademarks and MPLScon presentation content herein are the property of MPLScon and/or the respective owners/presenters. All rights reserved.

Return to the Newsletter Depot and Conference Archives
Return to the Network Access and Infrastructure Webtorials Menu